---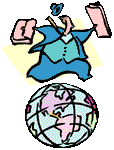 Why Webheads?
Professional Development!
What some Webheads say:
"Computers will not replace teachers,
but teachers who use computers will –inevitably-
replace teachers who do not". Claire Bradin
(Cited by Elizabeth Hanson-Smith (Technology in the Classroom, 1997).
"Teacher development is an exciting thing nowadays with unprecedented possibilities". Arnold Mühren
What do we get out of it?
•

Interaction with experts and non-experts from all over the world.
•

Learning from and with others
•

Practice with tools, with social scaffolding :Zone of Proximal Development.
•

Construction of knowledge with reflection in and on action.
•

Collaborative and friendly atmosphere
---
---
Dafne Gonzalez
April, 20, 2003.