---
Two Webheads meet in Valencia, Spain:
Maria and Dafne
April, 2003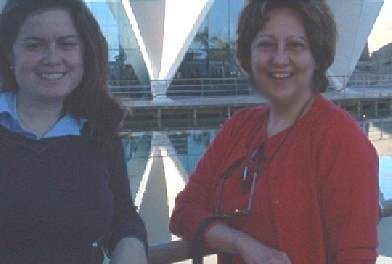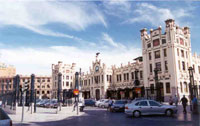 On Friday, April 4,I picked up Maria at Renfe, Valencia's North Train Station.
I had planned to bring a "Looking for Webhead Maria" sign, but time, as usual, was not on my side. My plan B was shouting "MARIA" all over the place, but it was not necessary. She gave me a ring while I was getting to the North Station by metro, and she asked me "How are you coming?", and I said "by subway". And she added, "No, what are you wearing?". I told her, and in spite of the number of people at the station, we finally met!
With a non-stop chit-chat, we walked to the hotel where she was going to stay. The Venecia Hotel is located in Valencia historic downtown, right across from the City Hall: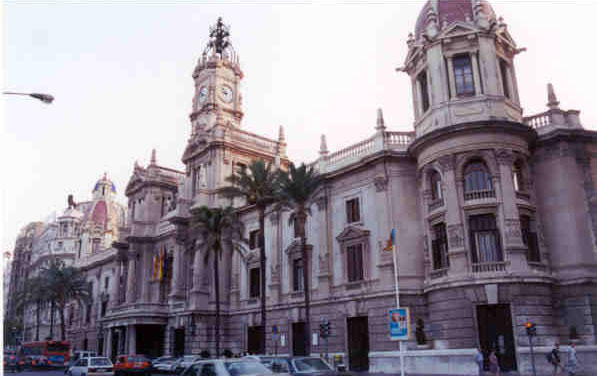 Marķa came to Valencia to attend this year's Spain-TESOL conference at Universidad Politecnica.
On Saturday, Maria spent the whole day at the conference, and at night, she enjoyed Valencia's night life, a good italian restaurant: "Ponte Vechio". , some latin dancing and copas (drinks).
On Sunday, after the conference closure, I met Maria at Mestalla stadium, which is near my tiny place. I had the opportunity to tell those webheads who were at Tapped In that I was spending the afternoon with Maria.
After a very typical valencian lunch (grilled vegetables, red wine, and two delicious desserts), we walked to the bus stop. On the way, I took this picture of Maria on "Pont Del Real":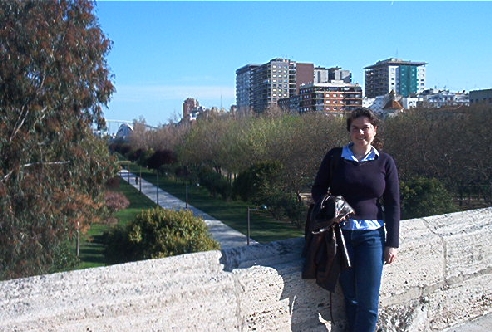 As soon as we got to the bus stop, our bus number 95 was arriving, and we started our way to the Complex "Ciudad de las Artes y las Ciencias"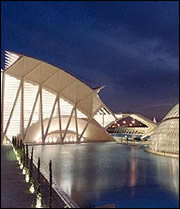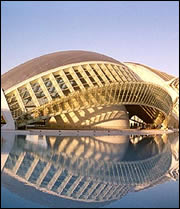 Once here, we headed towards the L'Oceanografic, to look at sea life from all the oceans in the world. While getting the tickets we found Jennifer, Maria's colleague, and she stayed with us for the rest of the afernoon and evening.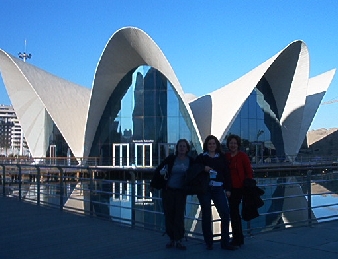 After a very interesting afternoon full of talk and laughter, and some shopping to take to the family back in Cordoba, we had "bocadillos", and Maria and Jennifer left for the Train Station, with the promise of coming back to Valencia for some more tourism and to try "mistela", "horchata" with "fartons", and "Agua de Valencia". But before it happens, they will have me visiting Cordoba at the end of this month.
Thanks Maria, it was a real pleasure meeting you f2f, it was like seeing an old friend :-)
Daf
---